For most of my life, I wrote in my bedroom… either under the covers with a flashlight as a little kid, or at my desk through high school. In my college dorm rooms… I've been a solitary writer. I don't really do coffee shops unless I'm meeting up with other writers. The problem with adulthood, though, is that you don't get to have a cool bedroom with your desk by the window and glow in the dark stars on the ceiling and posters of your favorite bands on the wall. You have a bed. And a dresser. And a hamper that is overflowing – and every time you walk by it you think, "I should do laundry" and then you just go and buy more underwear and socks. Wait, what?! That's only me. Liars!
When I started seriously writing again I told Kris that I felt like I needed a space dedicated to writing. Not a place where I was tucked in between meals or board games (kitchen and dining room table) and not a place where I was open for distraction (living room couch). But an actual place that was for writing. Where when I sat down my brain would click on a neon light that read, "TIME TO WRITE".
We were using the storage room in our basement to keep a ton of large boxes from appliances and electronics but after a little poking around realized that a small portion of it, the area under the stairs to the first floor, would actually make an awesome space for writing. Pinterest confirmed this. A few days later we got rid of the boxes, rearranged the storage bins of holiday decorations, and less than $100 later I had my own little writing retreat.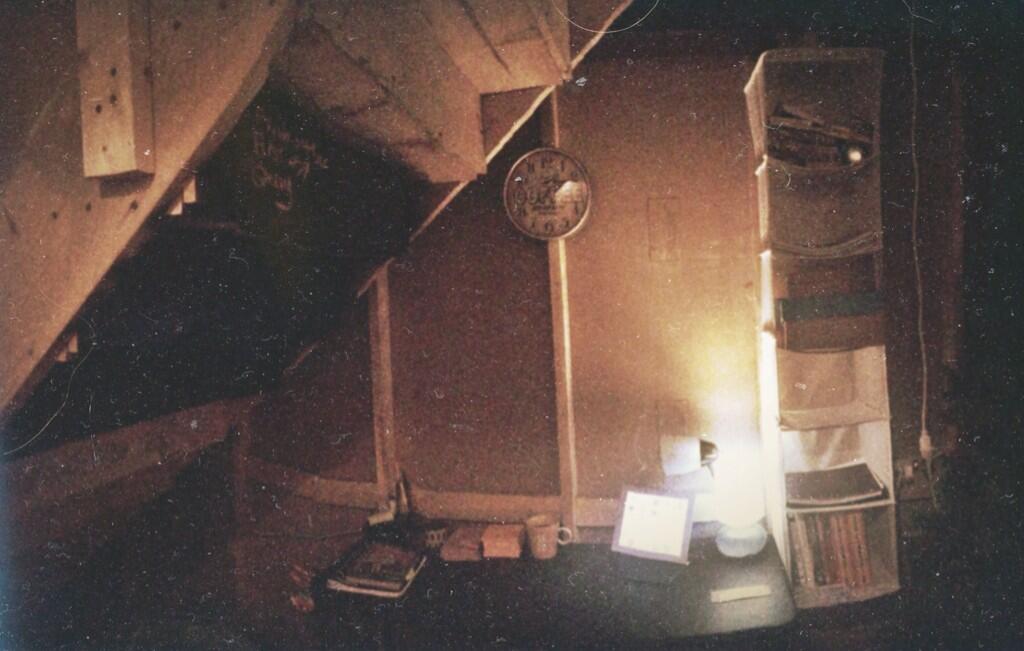 It's fairly simple but it works. Because the only thing I do here is write. I don't pay my bills here, or eat here, or hang out with Kris here. This is where I write. And while there are loads of way cooler under the stairs spaces (screw you, Pinterest) mine works for me. Here's what makes up my perfect writing space:
1. A thin but long card table that holds a table lamp, my computer (now, usually it's just my ipad but after Kris and I did a renovation we wanted the computer off of the main level of the house), post it notes, stationaryish stuff (paper clips, binder clips) and gives me enough room to work without getting cluttered. On the side I have two soup cans I put through the wash and attached super insane strong (but tiny) magnets to that hold my pens, pencils and highlighters.
2. A clip on lamp that is on a stud in the wall and offers a good amount of light.
3. The clock I never look at but love the sound of.
4. A hanging shoe organizer that holds: extra pens, pencils, highlighters, index cards clothespins, chalk; writing books, extra college ruled single subject notebooks (my medium of choice).
5. A low small table from IKEA (one of the first pieces of furniture I bought when I got my first apartment… it was part of an entertainment center we got rid of after buying this house) with my record player (I listen to either my perfectly curated Pandora writing stations or vinyl when I write). Corey Hart's Fields Of Fire, Side 2 is playing right now.
6. A twelve square cubby thing from World Market for things like staplers and printer ink and all photo paper, on top of it rests my printer and extra paper.
7. A chalkboard calendar that is somehow still set for July… I'm not a big wall calendar person I guess. But it's pretty.
8. A small brown rug sort of thing that is super squishy and helps my feet, which MUST BE BARE AT ALL TIMES, stay warm despite the concrete floor in here. And my folding aluminum chair. I am really weird about the chairs I have to sit in when writing… no padding please!
That's my writing space, in a nutshell. Do you have a special place where you like to write? Or can you do it anywhere?